SCAM! NOT PAYING!
Hello dear readers, we begin the work week with the publication of the quite interesting review, and most importantly working CryptoStrategy Limited, https://cryptostrategy.net, at the time of writing the project works about 3 months, but most of the activity program functioned as a partisan and just two days ago, the administrator changed the investment policy, as well as "dressed up" the resources, in addition, has acquired SSL certificate with green line support. It was the 10th January 2014, you can mark the beginning of the active phase of the promotion of the project. In the full review, we estimate the reception of the project potential by investors, let's talk about the cost of the technical component, will discuss the visual data, go through the features of the navigation and provide full information about the ref. back due to the acquisition of Sticky listing by admin you will appreciate the project…
Start 20 November 2014
NEWHYIP opinion
Investment programm cryptostrategy.net is a short-term project with a rather attractive investment plans, but many would say that the plans are not that far from attractive, due to the long period of the output to zero (33 days), but in my experience I can say that the long deadlines in a fast, not always are losing option, examples of successful work with such plans is enough, even in recent times. When there are such resources, it is necessary first of all to look at the project preparation and administration costs on the PR campaign, and with these two parameters in the project all right.
A technique discussed later, now just a couple of words about the promotion: administration rather boldly act in this direction, more than 25 reputable investment monitors and virtually all top blogs are connected to the promotion of the project, which will undoubtedly demonstrates tangible financial cost.
HYIP cryptostrategy.net, in my subjective opinion, quite the workhorse, of which at the present time is not too much, but I want to remind you that in no case do not forget about investment risks, so make the decision to invest individually and not invest all available resources into one project.
Technical side
Technical equipment of this fast give odds to many current midprofits: domain registered on November 19, 2014 for a period of 5 years, the site is located on a dedicated server, registrar ENOM.inc, DDOS protection provided by resource Ddos-Guard, SSL certificate is maintained with the support of the green line by COMODO for 1 year. Also the technical costs include a number of licenses and certificates including company registration, all features are available for viewing on the home page.
Legend
CryptoStrategy Limited — registered in UK, specialized on trade and mining of cryptocurrency, as the project is high-yield resource is quite reasonable that the legend is represented by just a couple of paragraphs, so we will not point your attention to the legend and move on to the external data
External data (design, content, navigation)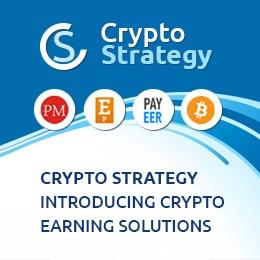 Project design, as we have already indicated, was changed just two days ago, before the program can run on bare template administrator has provided us with a very nice polished outer shell, at the same time design elements do not distract us from the direct investment, in the whole, design looks pretty strict and moderately.
Content is 100% original is in English, spelling errors have been reported, except textual content, after the rebranding, is available for viewing high-quality video presentation of the project in English.
Navigation, everything is simple: the main sections are located in the header (duplicated in the bottom panel), is available on the home page Summary: A brief legend, information about the affiliate program, investment plans, video presentation, statistics (it is possible to monitor recent deposits and payments) video presentation, a button to switch to the project in the social networks, and more. FAQ made without templates, is divided into 6 sections and contains 54 main points to work with the program, after reading this section, you are unlikely to remain questions.
Investment plans
Administration proposed two types of investment decisions: with the daily interest payments and payment at maturity. Depending on the amount of investment on the plans with daily interest (the first three options) You have the opportunity to receive the internal balance of 3- to 4% per day + deposit refund at the end of the term. The rest of the plans is extremely risky, so do not harp on them.
We'll show in details the example of investing in the project and the prospect of profitability on our ref.link: take as a basis for a deposit of 300 usd: RCB in this case from our site is 140% bonus + $ 3.33 (8.11% of the invested amount) = 24.33 usd, in the project. Your daily yield is 9 usd, return on investment, taking into account RCB has come 31 days after making the deposit, the remaining 59 days, you will receive a net profit. Total net profit (subject to successful completion of the investment period) will be 1132.83 usd (at zero reinvestment, also addressed the commission PM, the return of the deposit at the end of the term and ref.back). But I would advise you not to pay attention to this figure, primarily assess time-to breakeven;
Investment plans are backed by excellent conditions for active referrals that can produce up to 19% of total deposits invited partners.
Notes:
Deposits included into payments in PRO, MAX, CEO plans;
On plans Bronze, Silver, Gold deposit returned at the end;
Terms are in calendar days;
No compounding on PRO, MAX, CEO, for other available;
PS accepted
The project accept deposits by means of the four most popular in the HYIP industry payment systems: Perfect Money (project account U8050459 (CryptoStrategy) registered 19 November 2014 and fully verified), payment gateway Payeer, as well as the payment system and EgoPay Cryptocurrency BitCoin .
Contacts
For communication with the support there are the following tools: feedback form, e-mail, groups in social networks facebook and twitter, as well as phone +441422735033 and company address.
Technical part:
Domain for 5 years;
Dedicated server;
DDOS protection by  Ddos-Guard;
Licensed script  GoldCoders;
Domain registrar ENOM, Inc.;
SSL certificate with green bar for 1 year by COMODO;
Unique design;
Original content;
Promotion: forums and monitorings list here allhyipmon.ru;
Details:
Language: English;
PS accepted: PerfectMoney (verified), Payeer, EGOPAY, BitCoin;
Payment type: manual (processing usually 5-10 minutes, up to 12 hours);
Commission: no;
Minimal deposit — 50$;
Minimal withdrawal  — no;
Affiliate program: 5level: 5-3-2-1-1%; for official represenatives on first level 12%;
Multiaccounting: forbidden;
Ref. back: send personal data through ref. ordering form – «Ref.Back» button in the upper right corner of the website, or contact us through skype: rakovtsi.vladimir. After receiving the refs leave your review on the forum MMGP using the link to the blog topic on mmgp.ru, if you do not leave a review for a long time you may be denied in payment of RCB for subsequent orders.
Deposit

REF

1st Deposit

Re-Invested

RCB

BONUS

RCB

BONUS

$50-$50

5%

235%

—

100%

—

$51-77$

5%

215%

—

100%

—

$78-$144

5%

185%

—

100%

—

$144-$222

5%

165%

$2.22

100%

—

$223-$333

5%

140%

$3.33

100%

—

$334-$555

5%

130%

$4.44

100%

—

$556-$776

5%

120%

$5.55

100%

—

$777-more

5%

144% (LUCKY RCB)

$7.77

100%

—
Lucky RCB — this extra offer for RCB, adding new projects, we will install this type of refback on a permanent basis, it is important: Lucky RCB for each project is limited;
Conclusion: cryptostrategy.net — investment project started its activities as a partisan, Jan. 10, there have been major changes in the project and HYIP entered into an active phase of promotion. In the project there are serious shortcomings, the financial costs impressive, investment decisions can help the project to operate for a long time, the rest depends on the administrator. We wish him every success in this difficult matter, as investors: fight the greed and make decisions based on your own experiences. Good luck!
Link cryptostrategy.net
Our score:
Design: 4/5;
Technical data: 5/5;
Plans: 5/5;
Support: 5/5;
Texts: 4/5;
Total score:4.6/5
Our deposit:
Date : 01/10/2015 20:19
From/To Account : U8050459
Amount : -200.00
Currency : USD
Batch : 78454668
Memo : Shopping Cart Payment. Deposit to CRYPTOSTRATEGY LIMITED User CRYPTO393974.
P.S from the administration of Newhyip.com: We recommend you to: